The 4-Step Playbook for Job Seekers
Aug 21, 2023
Hi Readers,

I want to share a framework on how you can structure job seeking process.

My approach is inspired by the highly successful problem-solving framework of design thinking known as the "Double Diamond" method, which I've leveraged to go from academia to 3 fulfilling and exciting roles in the industry.

Here is the 4-step playbook that simplifies the process👇

1. Discover: passions, skills, and open roles
2. Define: wants, needs, priorities, and a top 10 target list
3. Develop: network, knowledge, skills, and application materials
4. Deliver: Ace interviews, secure an offer, and negotiate for the best fit.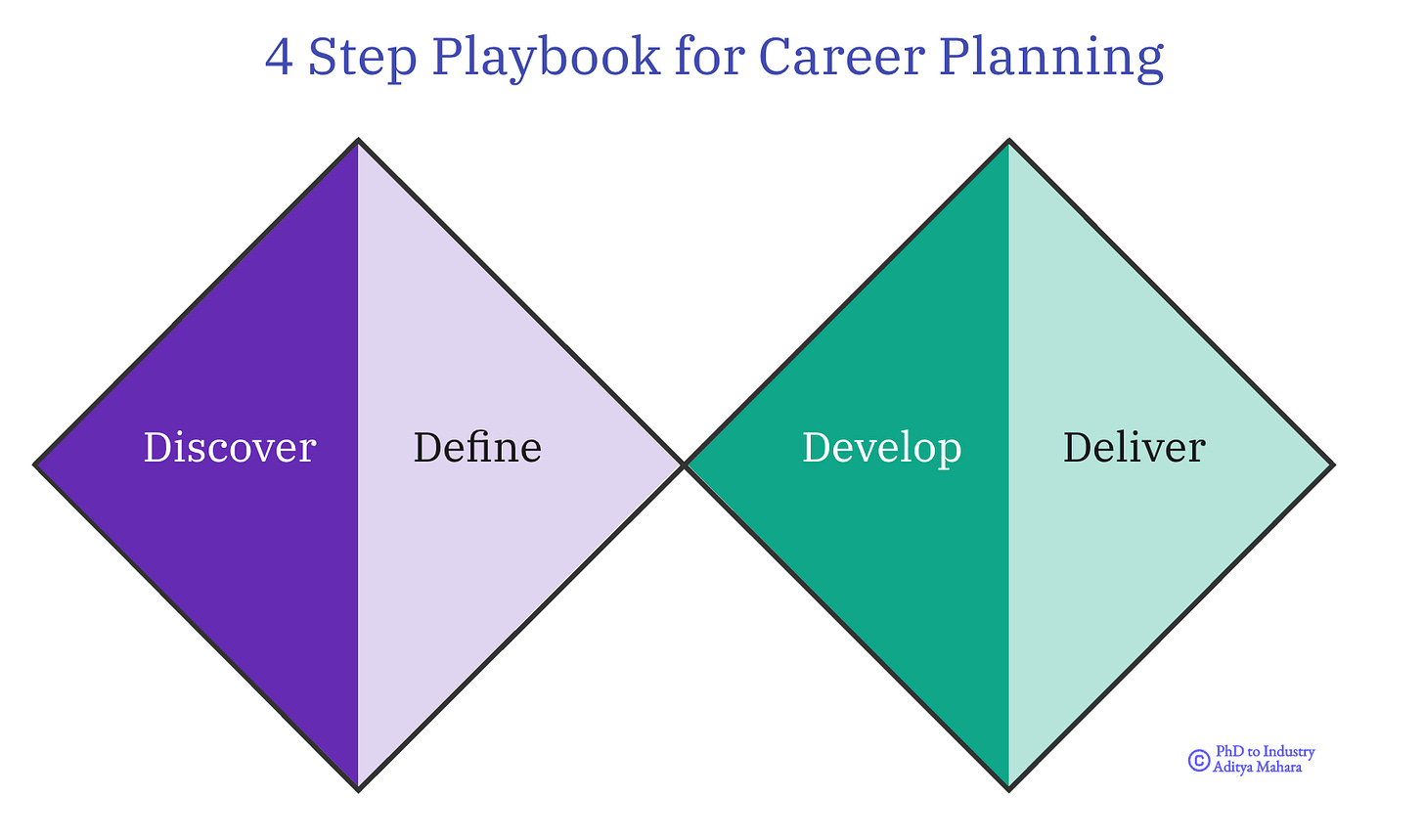 But first…

What is Double Diamond Method?

A design thinking model that is commonly used by designers, product teams, and other creative professionals to guide the problem-solving process. Most successful tech companies heavily utilize this framework to create incredible products, for example: Apple.

The company's design philosophy is heavily influenced by Steve Jobs, who was known for his emphasis on design and user experience.

"Design is not just what it looks like and feels like. Design is how it works." - Steve Jobs

Early in my career, I discovered the Double Diamond framework, and I've used a modified version for career planning since. It's had a direct and distinct impact on my career development - with my work currently as Product Lead at a Health tech startup, and previously as a Director in Pharma.

Here is the four-step process in detail:
1. Discover
[A diverging step]

The first step is to "Discover." In this step, it's important to be curious and open-minded. You shouldn't limit yourself to what you already know or what you think is expected of you. Embrace the opportunities in the unknown to learn and grow, and be willing to take risks and try new things.

Next, do an audit of your past and current knowledge, skills and qualifications. Writing a draft of your resume might help with this exercise, but the goal here is not to create the perfect resume - it's merely to use resume as an exercise to discover your skillsets and achievements. Additionally, it's vital to assess your values and passions and where you want to do next. This will lay the foundation of a fulfilling and rewarding career ahead.
"With such a dynamic and rapidly evolving career landscape today, everyone should conduct a discovery session to refine their career aspirations every couple of years despite their experience of seniority level"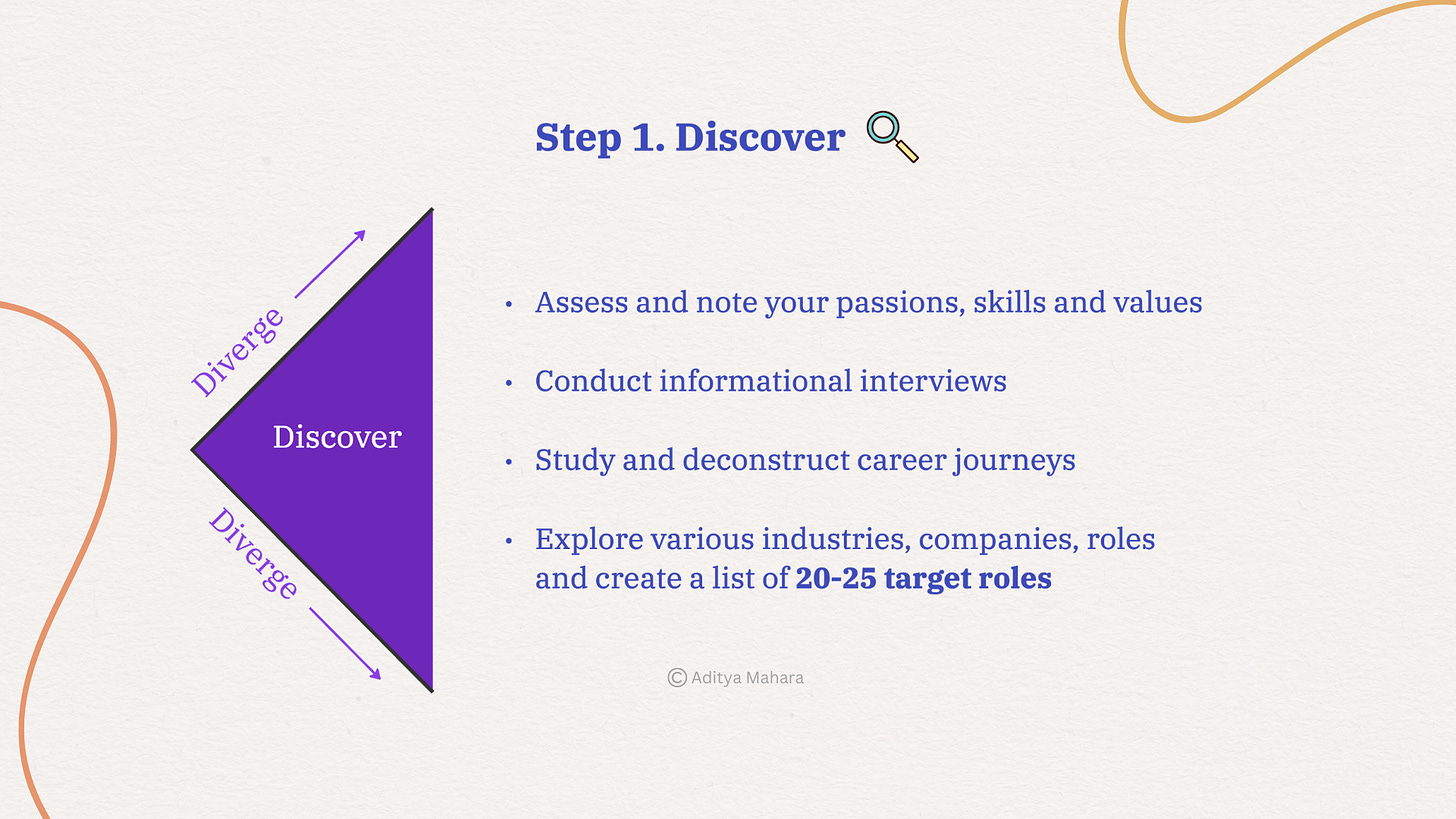 In addition to assessing your skills, a key part of discovery is also soliciting feedback and information from other industry professionals. One of the best ways to do that is via informational interview (a topic I'll cover in future post) in addition to online research.

By the end of this activity, you should aim to have a list of 20-25 target roles in companies you could see yourself working at. One shouldn't be too selective at this stage. The primary goal is to begin identifying potential career paths that align with your strengths and interests, as well as the needs of the industry and end with a list of roles that could you deep dive.
It's important to remember Discovery is iterative process and one can always come back to this step, after going through Step 2 and 3 below.
2. Define
[Converging step]
By end of 'Define' stage you want to have a top 10 target list.

To elaborate, in this stage, you will take the insights gained from the Discover stage and start to refine your focus. The goal is to identify top candidates (roles/companies) which you can target that aligns with your strengths and values.
This is a conversing step where you can begin to refine your focus, for example, you may define a specific role or industry that you are interested in pursuing (eg: Product Manager in Healthcare). You can continue to refine your focus by conducting informational interviews or research to eliminate any potential industries or roles that do not align with your aspirations.
Having a focused approach in this step has a higher probability of success for two reasons. Firstly, your overall preparation is streamlined, making it more effective. For example, you won't need to create multiple sets of resumes or interview preparation for different industries or roles. Secondly, your external persona to the hiring team is clearly communicable and consistent.
This reduces the risk of confusion or inconsistency in your applications.
Once you have a top 10 target list, it's time to focus but don't worry about this being you 'final' 10, you will have a chance to refine this list in Step 3 as well.
3. Develop
[Diverging step]
In the Develop stage, you will continue to build on the focus defined in the Define stage but at the same time take a divergent step to develop your network, application material, knowledge, and skills as much as possible.
The three substeps in this stage include:
Network: Key difference in this stage is to build connections with networks AT your target roles and companies to seek guidance and information. Do not have to ask for referral as a goal - if there is genuine interest and an opening, referrals most likely come naturally. In either case, networking in this stage is key, as it provides valuable insights into the company which supports a better performance during interviews as well as a bonus of potential referrals that gets you noticed (Aimlessly sending resumes doesn't work anymore!)

Application Materials: Next, you should create role and company-specific application materials such as resumes, cover letters, and portfolios. This will help you stand out to potential employers and show that you have done your research and understand the industry and the company's specific needs.

Knowledge & Skills: You should continue to develop your knowledge and skill set required for your target roles and companies. This may involve taking courses, attending workshops or conferences, or gaining practical experience through internships or volunteer work.
In this stage, it's essential to be flexible and open-minded. As you gather more information and insights you most likely will have to refine your top 5 roles/companies and continue to iterate.
While pivoting to a brand new direction is rare, it can happen if you gain real insights that suggest a new direction would be a better fit for your skills, values, and career aspirations. However, this should not be taken lightly and should only be done with a clear conviction of why moving in the new direction makes sense for you.
Next, aim to maintain a few active applications with a high probability of success at 3 (self-assessed).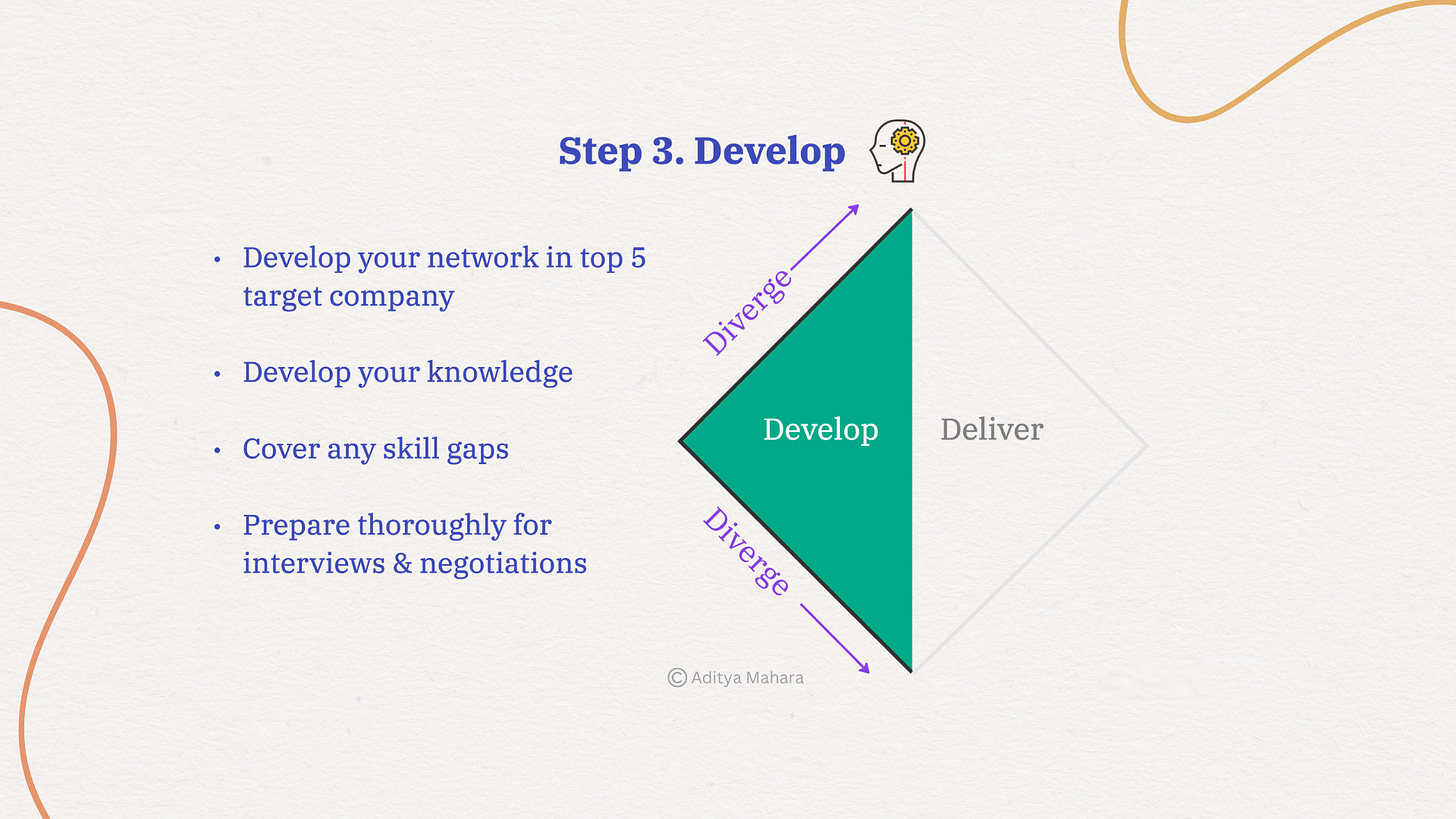 Ultimately, the main goal of Develop stage is about developing skills, knowledge, and clarity on your goals so the chances of success are maximized in the next and final step, which brings me to….
4. Deliver
[Converging step]

This is the final stretch - Deliver! The goal in this step is to execute all the preparations you've done in the first 3 steps and deliver your career goals.

As the interview process continues, there may be setbacks or obstacles, but by staying persistent and positive, you can overcome these challenges. I know especially in the job market today, it's a difficult time for job seekers so it's important to keep up mental sanity throughout the process, ask for help if useful, and continue to be positive.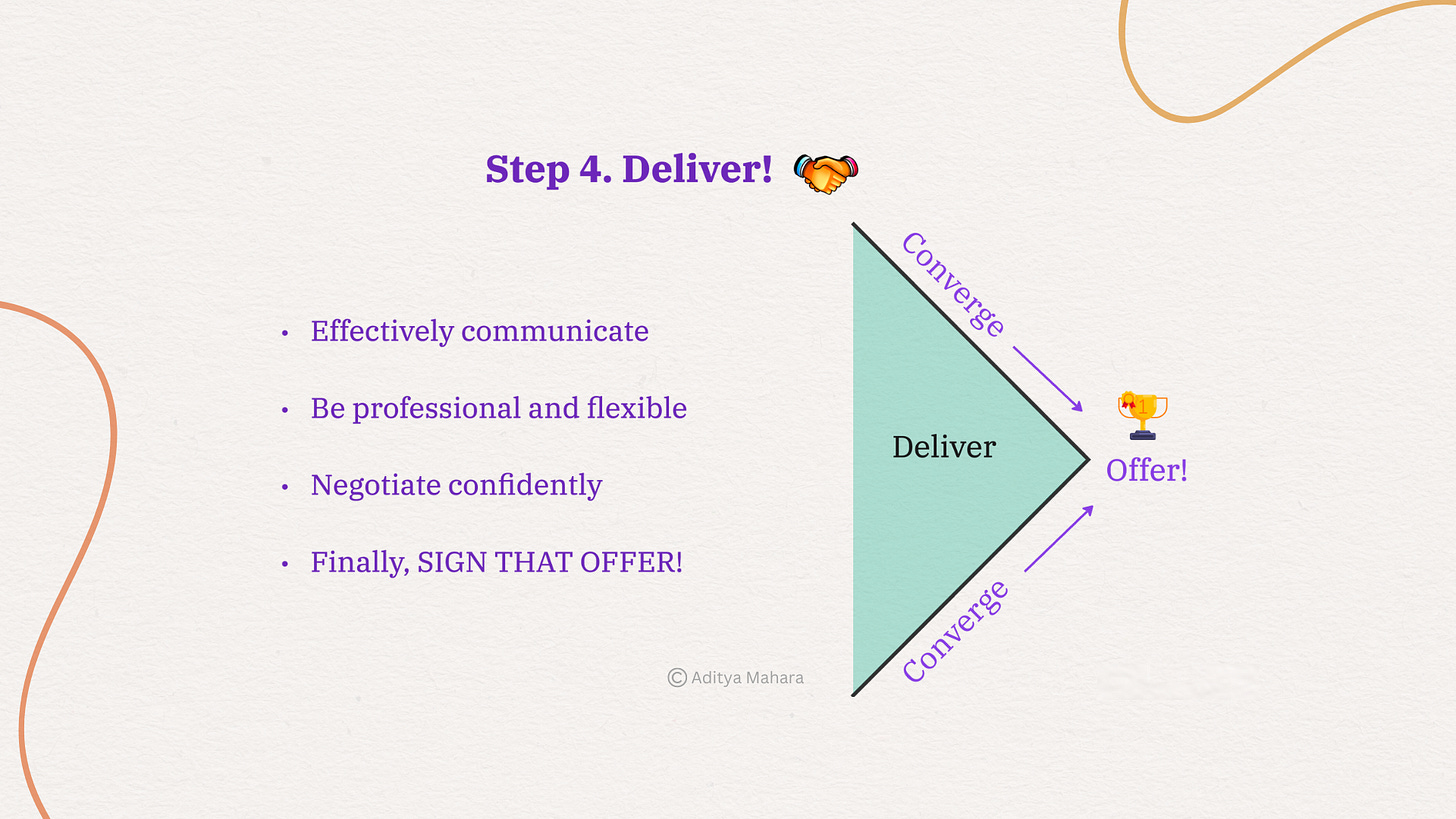 Along the way, it's important to celebrate the small wins (another interview round, good feedback, positive outlook etc). Recognize and acknowledge the hard work and dedication it took to get where you are, and take pride in your achievements.
If things don't work out, seek feedback and keep an open mind. You may gain key insights on how you could improve at your next opportunity or learn what external factors led to a decision. Regardless, keep your focus and continue to adapt your approach until you secure an offer that aligns with your goals and aspirations.

As you continue to gather momentum and confidence, ultimately, you will get an offer (hopefully multiple)! When that happens, you can negotiate confidently before finalizing the best option for you.

By taking the time to discover a true passion and fit, putting in the work, and executing, you'll be setting yourself up for a fulfilling and rewarding career in industry. Good luck!
Summary
In summary, here is my advice:
Discover: Explore your passions, skills, and research opportunities.

Define: Define your desires; refine your target roles/companies.

Develop: Develop your network, knowledge, skills, and application materials.

Deliver: Perform, secure an offer, and negotiate for the best fit.
This is NOT an easy step-by-step that one could follow blindly to success. This requires significant research, prioritization, and introspection, so for some, it may take months, but the exercise of doing this will bring clarity and a plan for a fulfilling career.

_______

P.S. I'm offering 1:1 coaching. You can book here: https://calendly.com/phdtoindustry/connections




Find career clarity, market your skills, and get hired
Join 600+ academics and PhDs who receive 1 actionable step each Tuesday
I will never sell your information, for any reason.